Every time I go out to source products for my photo shoots, I always spend time discerning if I should buy my own tray. Those lacquer and mirrored trays at West Elm almost tempted me to give in. It's a good thing I intentionally didn't bring money nor any of my cards, because those trays can be so damn expensive!
I also had an oval wood veneer tray which I had scored from cleaning out my MIL's platera, and which I had been meaning to give a good do-over ever since. I knew I needed one for my home office desk to corral all my supplies, but it's a tray, and apart from its decorative function, it also has many uses at home.



I took advantage of this morning's sunny prelude amidst the day's gloomy forecast and started on what I thought would be a pretty quick and easy DIY task. Below are my step-by-step instructions on how I made my copper tray, and my realizations (and learnings) afterwards from doing this morning's project.
Pick a well-ventilated spot in your house to do this, as the paint fumes might be too harsh and harmful to do indoors. I brought all the stuff I needed to the roofdeck, as that's the only spot in our house that's well-ventilated, has enough space, and gets plenty of sunlight for the paint to dry quickly.
Here are the tools you'll need:


Step 1: Sand down your tray.
I only had 400-grit sandpaper, which is normally used to finish painted objects, but I didn't think I would need to sand the tray as much. I figured I only needed to scrub off a little of the tray's varnished finish so that my paint would adhere to the surface. Paint doesn't stick to glossy surfaces, hence the sanding. It would have been okay if my tray didn't have nicks and scratches, but more on that later. If you ever think of doing this, don't do as I did and use a lower-grit sandpaper, like 180, whenever you start repainting anything.


Step 2: Clean the tray from dust and shavings with a rag. 


Step 3: Spray-paint your tray by propping it against a vertical surface covered with a drop cloth.


Step 4: Let the paint fully dry for at least an hour or more. 


Leave some time between coats to let the paint dry fully. For me, it took about 30 minutes to an hour since the sun was very hot and allowed for quicker drying time. It pays to be patient with projects like these, because if you add another coat too soon, the surface might not come out as even as you'd like it to be.
Step 5: After 2 or 3 coats, leave the paint to dry for an hour or more at least, then seal with clear acrylic sealer.


Since the paint I used is high-gloss, naturally the paint finish was shiny, almost lacquer-like. I didn't want my tray too glossy because it highlighted all the tray's nicks and scratches. So I used a sealer that would tone down the gloss. If you want to stick to a super-glossy look, use a sealer that has a lacquer or super-high-gloss finish.
Spray on the sealer the same way you would spray-paint. This time, however, you won't need to do as many coats. I only did roughly two coats to my tray to get the finish I wanted, which was a bit brushed.
Again, wait a few hours to let the sealer completely dry. On the Mod Podge can I used, the instructions were to wait 24 hours before handling.
Aaaannnd you're done!
As always, with every project I do, I made some mistakes. Here's what I learned after doing this supposedly quick DIY activity:
Use lower-grit sandpaper at the start of the project. The lower the grit, the rougher the texture. And you need that roughness to really do away with the varnish, as well as smoothen down imperfections on the wood. Since my sandpaper was too fine, I couldn't even out the nicks on the handle, which came out glaringly obvious even after applying the brushed-finish sealer.
Use a sandpaper holder for better grip.I'd forgotten all about my hubby's sandpaper holder (pictured below), and I sanded down my tray with my bare hands. After a while, I could feel the heat from the friction all that rubbing produced, so I needed to rest every now and then, which ultimately prolonged the process.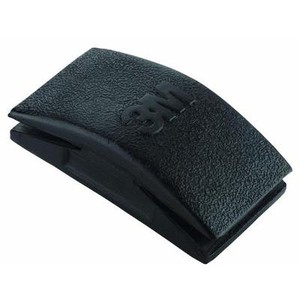 Don't spray-paint your tray too closely. Doing so will only cause streaks and uneven surfaces, which you will need to sand down again.


Hold down your drop cloth with something heavy. 
I left my work area to let the paint dry, and after an hour, I went back to see this:


So again, I needed to re-sand and repaint the damaged parts. Also, it would be wise to do this activity when there is no construction site nearby, as the wind carries with it all sorts of particles. No matter how well I cleaned my tray before starting, I still ended up with some dust particles underneath the paint. Thankfully it wasn't so obvious (and thankfully, I'm not as OC as I think I am). (Either that or I've just learned—as Queen Elsa is wont to say—to let it go.) (Sorry for the Frozen reference, my one-year-old toddler has just recently begun watching it.)
Now here's the finished product!


What do you think? Yay or nay? I promise, I won't get mad. (Just a tiny bit hurt.) Kidding. (Not kidding.) Kidding. 😀